The Graduate
is one of my favorite movies; it's definitely a good "teaching film."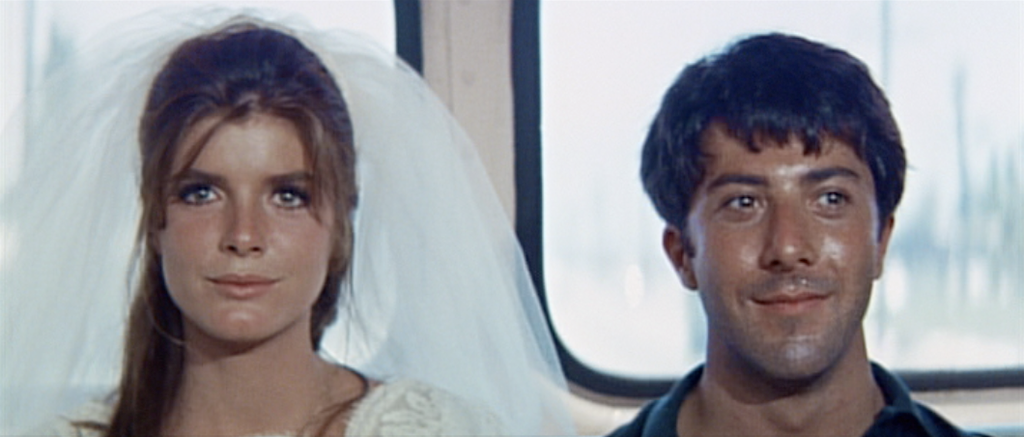 Katherine Ross and Dustin Hoffman as Elaine and Benjamin
I showed it to my film class two weeks ago and last class we spent AN HOUR just talking about and breaking down the last FIVE MINUTES of the film.
Mike Nichols directed. He came from a theater background. The movie he directed before this was Who's Afraid of Virginia Woolf which was in black and white with Richard Burton and Elizabeth Taylor screaming at each other a lot.
Dustin Hoffman was a new type of lead in a movie, not blonde and looking like a model, like Robert Redford who they were originally considering for the part.
Anne Bancroft who plays Mrs. Robinson, Elaine's mother, was in real life only six years older than Dustin Hoffman.
Mrs. Robinson in one of her many leopard-skin outfits.
There is definitely a water motif going on. Benjamin often looks like he is in a fishbowl, when he is in front of a fishbowl, when he is looking out the window at the swimming pool below, when he is deep in the swimming pool in his diving suit.
There are also so many stylistic shots, like the shot of Benjamin which we see through Mrs. Robinson's legs. Or the shot of Benjamin coming out of the hotel and into the Braddock household in one doorway sweep during the montage at the end of Act One. Or the shot of Benjamin's head swinging around three times in a row after Mrs. Robinson comes through the door, naked.
One of many stylistic shots.
My favorite moment of the film occurs when toast pops out of the toaster in the Braddock kitchen, ending a scene. It's just so weird and unexpected.
This film was also one of the first to use songs that were already hits instead of a musical score. Simon and Garfunkel's songs permeate the film, sometimes in their entirety. Only the song "Mrs. Robinson" was written for the film itself.
The ending of The Graduate too is such a surprise and so over the top. It's hard to forget and there's a lot to talk about but not until you've seen the movie....